Spa Packages Page
Spa Packages
To pamper your pet, try one of our spa packages. We offer shampoo and conditioner baths with blow-dry, brush out, nail trim, ear cleaning, and gland expression.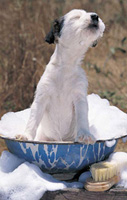 Shampoo and Conditioner baths with blow-dry
Brush Out
Nail Trim
Ear Cleaning
Gland expression
**Note: Salon services do not include grooming trims or cuts.**
We also offer these ala carte services: nail painting, teeth brush, nail filing/grinding, gland expression and more.
Call for prices.